What Is the "Made Whole Doctrine"?
June 28, 2023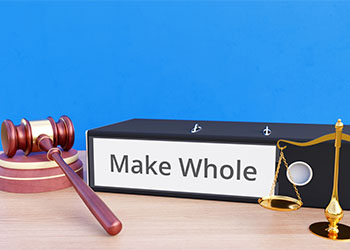 Insurance companies underwrite policies with individuals and entities, who then pay a premium for the coverage they are seeking. This can be true for auto insurance, property insurance, commercial insurance, and more. When the policyholder is thereafter injured or suffers property damage covered by the insurer's policy agreement—which generally includes a deductible and caps on the amount to be paid out—the insurer will offer a cash settlement.
Insurers also engage in what is known as subrogation. After paying out for a property damage claim, as an example, the insurer may go after the at-fault party for recovery of the money paid out under the claim to the policyholder. Insurers can also pursue subrogation against the policyholder, or claimant, who received a settlement, say for personal injuries.
However, a doctrine observed in Florida, and also almost universally in the United States, holds that the claimant must be "made whole" before the insurer, or subrogee, can seek subrogation. Say the claimant was paid $5,000 for medical and other expenses resulting from their injury, but total expenses and losses totaled $25,000.
The injured party then sues the at-fault party to recover for all outlays. The insurer may assert that the injured claimant is being paid by the at-fault party, called a tortfeasor in legalese, and therefore, the settlement should be returned.
This is where the made whole doctrine comes into play. Say the injured claimant never recovers all resulting expenses. That person then cannot be said to have been "made whole," so the insurer cannot pursue subrogation. Insurers, however, try to get around this doctrine by including language in their policies that attempts to negate or sidestep the made whole doctrine.
If you as a claimant in or around Boca Raton, Florida, are being pursued by your insurance company for subrogation, contact The Law Office of Stephen Barker. We have more than 25 years of experience in dealing with insurance companies and know all their tactics, including subrogation.
We will work with you to protect your rights under applicable doctrines and laws. We also proudly serve clients in the surrounding areas, including the cities of Fort Lauderdale, Delray Beach, Boynton Beach, Deerfield Beach, Miami, and West Palm Beach.
Understanding Subrogation
Subrogation is basically the practice of recovering money paid in settlements. This can be done through the at-fault party's insurance company or the tortfeasor personally through a lawsuit. Unfortunately, insurers will also try to lodge subrogation claims against the actual victim or policyholder.
"Made whole" can also apply to a policyholder's rights when the insurance company does recover from the tortfeasor. In that case, the policyholder should be made whole with the funds the policy issuer recovered.
Florida's Made Whole Doctrine
In simple terms, the made whole doctrine maintains that the insured parties (policyholders) recover for all losses and expenses before the insurance company can make a subrogation claim against them, and insurers also have an obligation to make them whole if they recover money from the tortfeasor.
Considerations Surrounding the Made Whole Doctrine
As mentioned earlier, many if not most insurance companies will try to include language in their policies to protect them against the made whole doctrine. It is something to be aware of as a purchaser of an insurance policy. You may want to shop around, ask direct questions, and read the fine print. Typically, the policy will mention the insurer's right to all recoveries made by the policyholder from the negligent party.
Another consideration is the concept of comparative negligence or fault. Florida had long observed the principle of pure comparative negligence, but in March 2023, the state moved officially to the modified comparative negligence standard.
Under pure comparative negligence, each party involved in, for instance, an auto accident will be assigned a percentage of the fault or negligence. Even if one party was found 90 percent at fault, they could still collect 10 percent from the other.
Under modified comparative negligence, any party that is more than 50 percent at fault can't collect anything. This change can have huge ramifications for how insurance settlements and court decisions are made.
In 2003, a case brought by a policyholder against the insurer Allstate sought for the plaintiff (policyholder) to be made whole after the insurer collected on a subrogation. Plaintiff Richard Snell wanted his $500 deductible returned. Allstate, however, using the principle of comparative negligence, argued that because of his share of the fault, no payment should be made under the made whole doctrine.
The trial court dismissed Snell's claim, and that decision was affirmed by the Third District Court of Appeal. Not all courts or judges necessarily agree with these rulings, so you should be prepared for any interpretation. The move to modified comparative negligence even compounds the whole issue more.
Contact Us for Dedicated Legal Guidance
If your insurance is seeking an abrogation from you to recover for a settlement they issued, contact us immediately at The Law Office of Stephen Barker in Boca Raton. We understand how insurers operate, and we are experienced in—and knowledgeable about—all laws, doctrines, and legal precedents that apply to them. We will fight to protect your rights.