Understanding Waivers of Subrogation
May 17, 2023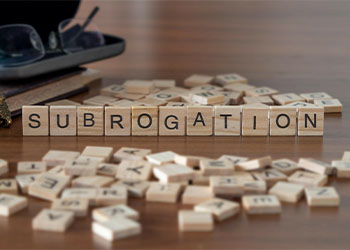 Assume you've purchased an apartment complex, and as the new landlord, you want to make sure you're protected against lawsuits from tenants and their rental insurance policies. You include in your lease agreement with each tenant what is called a waiver of subrogation. This will protect you from an insurance company lawsuit if, for instance, a tenant slips and falls on a stairway that has become worn from overuse.
The tenant can then make a claim on their renters' insurance policy. The insurer, in turn, would typically sue you, the landlord, to recover what they pay out to the policyholder—but since there is a waiver of subrogation included in the lease agreement, the insurer cannot bring legal action against you.
Waivers of subrogation are fairly common in rental agreements, and also in construction projects. Contractors will often seek a waiver of subrogation before agreeing to a contract to protect themselves should something go wrong. Waivers of subrogation, of course, have their pros and cons, and the biggest con is probably that your insurance premium will rise.
If you are in business in or around Boca Raton and want to understand and/or implement waivers of subrogation to protect yourself from lawsuits, contact The Law Office of Stephen Barker. Our business law attorney will review all aspects of contractual agreements with you, including the use of waivers of subrogation, and help you implement what is needed to protect your business.
We also serve clients in the area surrounding Boca Raton, including the cities of Fort Lauderdale, Delray Beach, Boynton Beach, Deerfield Beach, Miami, West Palm Beach, and the rest of Florida.
What Is Subrogation?
Subrogation is a term used to describe the insurance company's practice of seeking to recover any claim settlement by suing the party responsible for the damage, loss, or injury that led to the claim. The example above relates to a landlord using waivers of subrogation to prevent tenants' insurance companies from suing him should some injury or accident happen on the property leading to a settlement.
Construction contracts also often include such waivers. Let's say you contract to have an addition built to your residence. The contractor has a furnace installed in the addition, but the furnace is defective and causes a fire. You make a claim on your homeowners' policy and the insurer pays to repair the damages. The insurance company would then normally seek recoupment from the contractor who installed the furnace, but with a waiver of subrogation in place, they cannot.
In construction work, a waiver of subrogation serves to prevent delays in the completion of the project if a claim arises. With no waiver of subrogation, the insurer will seek recovery from the contractor and in doing so will carry out a lengthy investigation, which will delay or even put a stop to the work in progress.
In addition to property management and construction work, waivers of subrogation are often used in contracts with third-party vendors for events such as weddings, and also in IT and computer maintenance contracts.
Does Your Business Need a Waiver of Subrogation?
If you provide any services that can lead to liability for some damage, loss, or injury to others, you should consider a waiver of subrogation in each contract you agree to. Additionally, if you're entering into a contract with others, you may want to include a waiver of subrogation to prevent delays or hesitancy by the other party to sign on.
Waivers of subrogation cut down and may even prevent the possibility of a drawn-out and costly legal dispute. These waivers can also prevent conflicts between the parties involved, such as between tenant and landlord and between owner/developer and contractor in construction jobs.
Pros and Cons of Waivers of Subrogation
Here is a summary of the upsides to waivers of subrogation:
Waivers provide clients peace of mind and protection in knowing they won't be sued

Waivers preserve good working relationships

Waivers keep your business operating by preventing lawsuits and their interruptions

Waivers prevent financial losses by avoiding costly lawsuits with third parties or insurance companies
As for potential downsides, it should be noted that some insurance companies won't even accept waivers of subrogation. When you're purchasing your commercial or business liability policy, you may want to enquire if they accept such waivers. Also, if they do, your premium will no doubt reflect that should you enter into waivers.
You also must inform your insurance carrier of any waivers you enter into, which then may fuel an increase in your premium. If you have too many claims based on waivers of subrogation, your insurer may also simply drop you as a policyholder and you'll have to look elsewhere. If you don't inform your insurer of a waiver, that entity may decide to pursue a breach of contract claim against you.
Serving Florida Clients with a Diligent Focus
Each business is unique, and you may need to include waivers of subrogation in agreements you reach with others. In return, others may ask you to sign a waiver in an agreement with them. For all your questions and concerns about waivers of subrogation and how they can help—or hinder—your business in or around Boca Raton, Florida, reach out to The Law Office of Stephen Barker.