Subrogation FAQ
May 1, 2023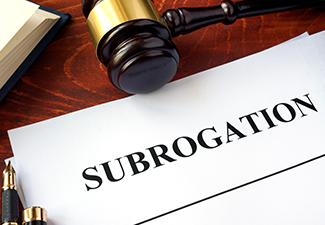 "Subrogation" is a term that most insurance personnel hear at some point in their professional lives. However, even those in the industry may not know what it means on a practical level or how it relates to them and their customers. The insureds (homeowners, vehicle owners or business owners ) are even less likely to be conversant on the topic. If you are involved in a claim where damages were paid to you or another party through insurance, it is likely a subrogation claim will ensue, and you need to understand what subrogation means and how it will affect you.
The subrogation recovery attorneys at The Law Office of Stephen Barker represent those who deal firsthand with subrogation claims and recovery. We provide professional legal guidance to clients involved in covered losses throughout Florida.
Frequently Asked Questions About Subrogation
Read through the frequently asked questions below to have a better understanding of subrogation and how it functions. Every case is unique, so reach out to an attorney to review your specific needs. The only unhelpful question is the one you do not ask.
What is subrogation and how does it work?
Subrogation is a legal procedure in which an insurance company seeks reimbursement from a third party for losses it incurred as a result of negligence or wrongful conduct. In simpler terms, it means that your insurance company pays for damages that you have incurred due to the negligence of someone else, and then they seek repayment from the person or entity responsible.
What's an example of subrogation?
There are many types. The Law Office of Stephen Barker handles property, auto and workers compensation subrogation matters.
Property - If your home or business is damaged due to the fault of another, I can help owners and their insurance carrier collect from the responsible party. The difficulty is identifying the target. The best tool in the process is prompt reporting so that I can start my investigation of potential causes and targets at the earliest possible time.
Auto - Same basic concept, except it is your vehicle that is damaged. The damage may result from a direct accident or faulty work by a service provider.
Workers Compensation - If a worker is injured, they can receive benefits from their employer's insurance company to cover medical expenses, lost wages, and other associated costs. If a third party was found liable for the employee's injury, the employer's insurance company may file a subrogation claim against that party or their insurance company to get reimbursed for the benefits it paid out. This is often undertaken in conjunction with a personal injury action seeking recovery for pain and suffering, non-reimbursed financial damages and other items of damage.
What are the benefits of subrogation?
Subrogation enables insurance companies to help their clients recover costs they incurred due to the negligence of others. It holds those responsible accountable, ensuring they pay for the loss they caused. It also helps keep insurance premiums low, as money is being recouped by the insuring company. Additionally, subrogation avoids double recovery, which helps prevent fraud and therefore reduces the need for higher insurance premiums.
I received a subrogation letter. What should I do?
If you receive a subrogation letter, it is essential to read it carefully to understand what it is and why you received it. The letter usually provides detailed information concerning the reimbursement claim, including the amount the insurance company is seeking and the details of the subrogation claim. If you are unsure of what you can or should do next, it is best to contact your insurance carrier if you possess insurance covering the stated claim, or an attorney if you do not have insurance or are not sure.
Can I be sued for not paying a subrogation claim?
Yes, you can. If you ignore a subrogation demand, the insurance company asserting the claim can sue you to recover the money they paid out. Allowing it to remain unsettled can negatively impact your credit rating and could lead to other legal procedures. It is essential to respond promptly and communicate with your insurance company if you have questions or concerns.
How long does subrogation take?
The timeline for subrogation can vary depending on the complexity of the case, the amount of money involved, and the cooperation of the others involved. Some cases can be resolved quickly, while others can take months or even years. You should have realistic expectations and communicate with your attorney about how long the process may take.
What is a waiver of subrogation?
A waiver of subrogation is a clause in a contract that prevents an insurance company from pursuing subrogation claims against a third party. This is often used in commercial leases or construction contracts where there may be multiple parties involved in a project. With the help of your lawyer, you need to read through your contract and determine if there are any waivers or other similar caveats to consider.
Where can I find the subrogation condition details of my policy?
The subrogation clause in your insurance policy can usually be found under the conditions section. If you make an insurance claim it is important that you read your policy carefully to understand the limits and exclusions of your coverage, and your responsiblities in the subrogation process. The Law Office of Stephen Barker's subrogation professionals can expedite this process by pointing out the pertinent provisions and explaining the subrogation condition details in plain language.
We Are Ready to Answer Your Questions
Subrogation can be one of the most diverse, complicated, yet fascinating, aspects of the insurance claims process. By understanding the basics of the subrogation process and working closely with an experienced attorney, you can do your best ensure a smooth and successful subrogation claim. Contact The Law Office of Stephen Barker to get answers to all your questions about subrogation. We provide a free, no-obligation consultation.