How Long Does an Insurance Company Have to Subrogate?
Oct. 12, 2023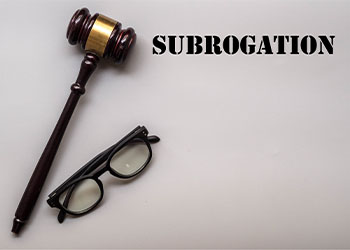 Subrogation is a significant process that allows insurance companies to recover costs paid out in claims by pursuing payments from other parties that are responsible for the damages. Though it may seem like a straightforward process, subrogation can be complex. For instance, insurance companies must initiate subrogation procedures as early as possible. There are specific deadlines set in place for them to obtain the payments from other parties.
So, how long does an insurance company actually have to subrogate, and why is timing critical in the subrogation process?
Whether you have questions about subrogation or need legal representation, it's important to reach out to knowledgeable and detail-oriented counsel. Contact our firm in Boca Raton, Florida, and set up a consultation. Our subrogation recovery attorney serves the communities of Fort Lauderdale, Delray Beach, Boynton Beach, Deerfield Beach, Miami, and West Palm Beach.
The Subrogation Process & Subrogation Time Limits
Insurance companies don't have forever to make a subrogation claim. While the statutory limitations period can vary depending on the type of subrogation claim made—and in which jurisdiction it is made—the standard statute of limitations ranges from one to six years. In some states, the deadline may be even shorter.
For more context here, it's crucial to understand the steps involved in the process, from start to finish. First, one party (typically an insurance provider) files a claim on behalf of its insured party who has suffered a loss from another party, typically when an insured party is not responsible for the loss. Then, after paying out the claim, the insurer becomes subrogated, meaning they're entitled to pursue the liable party for monetary damages to reimburse or offset the cost of the claim paid out to its policyholder.
I's important to note that if the insurance company fails to initiate subrogation proceedings before the deadline set by the statute of limitations, the case may be dismissed or unaccepted, resulting in having no opportunity for recovery.
At The Law Office of Stephen Barker, we understand how complex and time-consuming subrogation can be. Our experienced attorney is well-versed in subrogation laws and has successfully represented insurance companies in a variety of subrogation cases. We prioritize timely action to help our clients face the path of least resistance when seeking the recovery they rightfully deserve.
Subrogation Limitation Statutes in Florida
Every jurisdiction has specific statutory limitations to subrogation. The law sets these deadlines to ensure that the parties responsible for losses and damages are not left with an extended period of time to clear their records or avoid being held accountable.
The statute of limitations for subrogation cases in Florida varies based on the nature of the claim. For negligence actions, House Bill 837 has reduced the statute of limitations from 4 years to 2 years. For product liability claims, the statute of limitations is 4 years; but, in cases involving products with an expected useful life of 10 years or less, the statute of limitations might be 12 years.
It's essential to note that these time frames may be further reduced if there are additional specific contractual deadlines in place.
From the variables and exceptions at play with statutes of limitations, it's in your best interest to consult with an attorney to understand the deadline pertaining to your own case. Reach out to us at The Law Office of Stephen Barker with any questions.
Importance of Getting Legal Help Early On
Resolving subrogation issues requires a detail-oriented and strategic approach—as well as an awareness of necessary deadlines. Therefore, insurance companies should retain legal counsel as early as possible. Legal representation can conduct a thorough investigation of the details surrounding the loss, locate responsible parties, and initiate legal proceedings, all of which help avoid missing crucial deadlines set by statutory limitations. Prompt legal representation gives insurers the best chance of recovering the maximum amount of damages.
Trusted Representation for Subrogation Recovery
Subrogation is a crucial process for insurance companies to recover monetary damages paid out in claims from responsible parties. However, every jurisdiction has laws set in place specifying particular time limits within which subrogation proceedings must be initiated. The statute of limitations varies and can even be as short as one year, which makes initiating the process promptly crucial. By retaining legal counsel early in the process, insurers are better positioned to gain favorable outcomes.
Our attorney at The Law Office of Stephen Barker has extensive experience in subrogation litigation. They have been in the subrogation arena for over 20 years, and clients who initiate subrogation proceedings with Attorney Barker can benefit from their experience in property, automobile accident, and workers' compensation subrogation actions.
For skilled legal support in Boca Raton, Florida, reach out to us today. We serve clients in the surrounding areas of Fort Lauderdale, Delray Beach, Boynton Beach, Deerfield Beach, Miami, and West Palm Beach.